Tufted headboards have been all the rage for a couple of years now, and I really love how they create such a tailored and classic look. I was on the hunt for one last year and came across several gorgeous beds in various magazines. Below you can see examples from Hickory Chair ($5500), Restoration Hardware ($2855), and Crate and Barrel ($1500) (left to right):
Here's another pretty example in a room featured in Style at Home:
These beds are fabulous, but they were all a bit outside of my budget! So low and behold, I found a steal of a deal at none other than Costco! The headboard we bought is actually still available online at either www.costco.ca in Canada or www.costco.com in the States. Keep in mind it is not a whole bed as some of the examples above are, but the headboard alone is only $339.99, and you can really create the same look!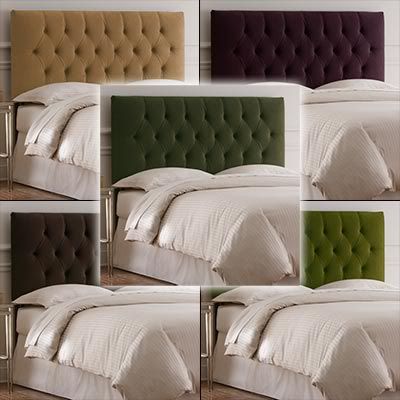 Here you can see the headboard in our master bedroom, I would show you the whole room but it is very much a work in progress!! Our bedding is from The Bay, it is from the House & Home collection by Lynda Reeves. I absolutely love Moorish tile prints, so I had to have some pillows with that pattern. I have no bedroom furniture yet, but maybe I will do a wishlist soon to show you what I envision.
Below is a room designed by Sarah Richardson for a lottery home in Vancouver that I actually found after I chose this headboard! Sarah...I think we are soul-sisters :)
Don't these pics just make you want to curl up with a good book? Have a happy and cozy Saturday evening :)