I am working away on a 'small' kitchen reno in my home, so I have been constantly referring back to my kitchen-inspiration photos I have kept filed away. There is one kitchen that appeared in Style at Home a couple of years ago that I always end up coming back to:
This kitchen is quite stunning, and besides the fact that my kitchen is definitely smaller and does not have a center island, the layout of this kitchen is very similar to mine. I love the black and white palette, and the touches of glam from the crystal in the light fixtures, the upholstered furniture, and that glamorous hutch:
I am basing my mini kitchen reno on the kitchen above, but an 'on-a-budget' version. So far I purchased subway tile since it is an inexpensive backsplash with a clean modern look, and we have painted our old oak cabinets white and replaced all the ugly brass hardware with pretty brushed chrome ones (pics to come soon!). What's left is to shop around for the counter top, which I am trying to do now. I am thinking something dark like the photos above, and so far we have been looking at granite and quartz...any advice or suggestions on these or other counter top products?
What would I install if money was no object?? I think right now I am loving an all-marble look (backsplash and counter):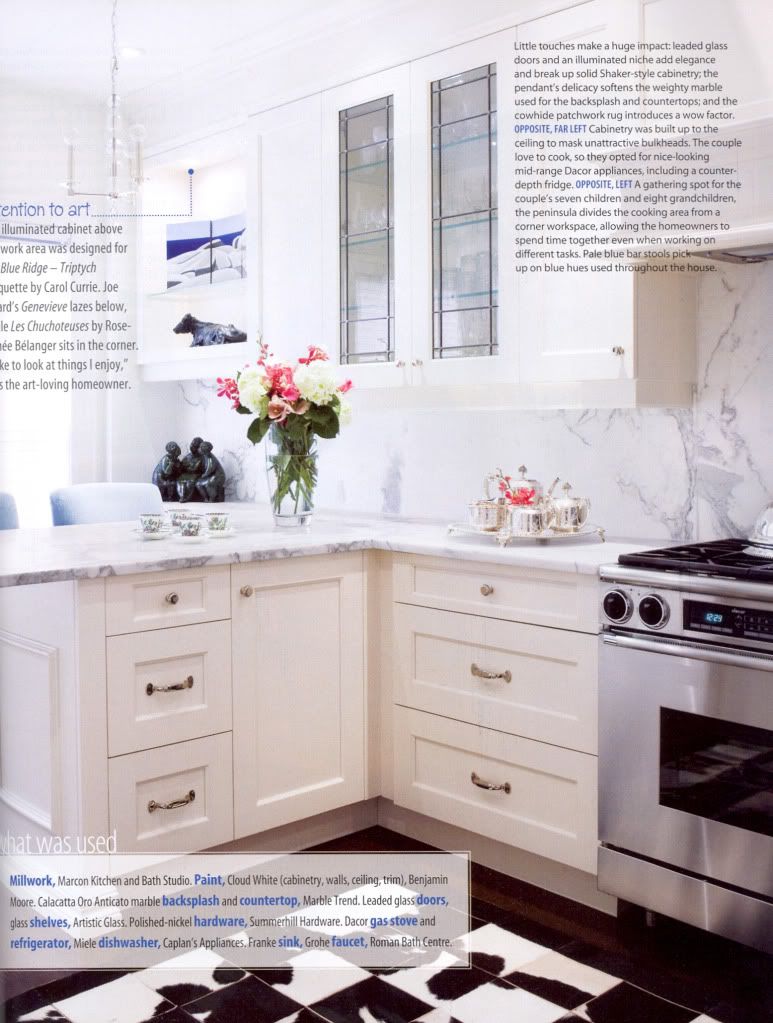 Or even Carrara marble subway tile! Did you know that Carrara marble is called Carrara marble because it comes from the mountains of Carrara Italy? Apparently Calcutta marble is similar but has a more desirable and distinct veining, but it comes at a price: Calcutta is almost three times the cost of Carrara!!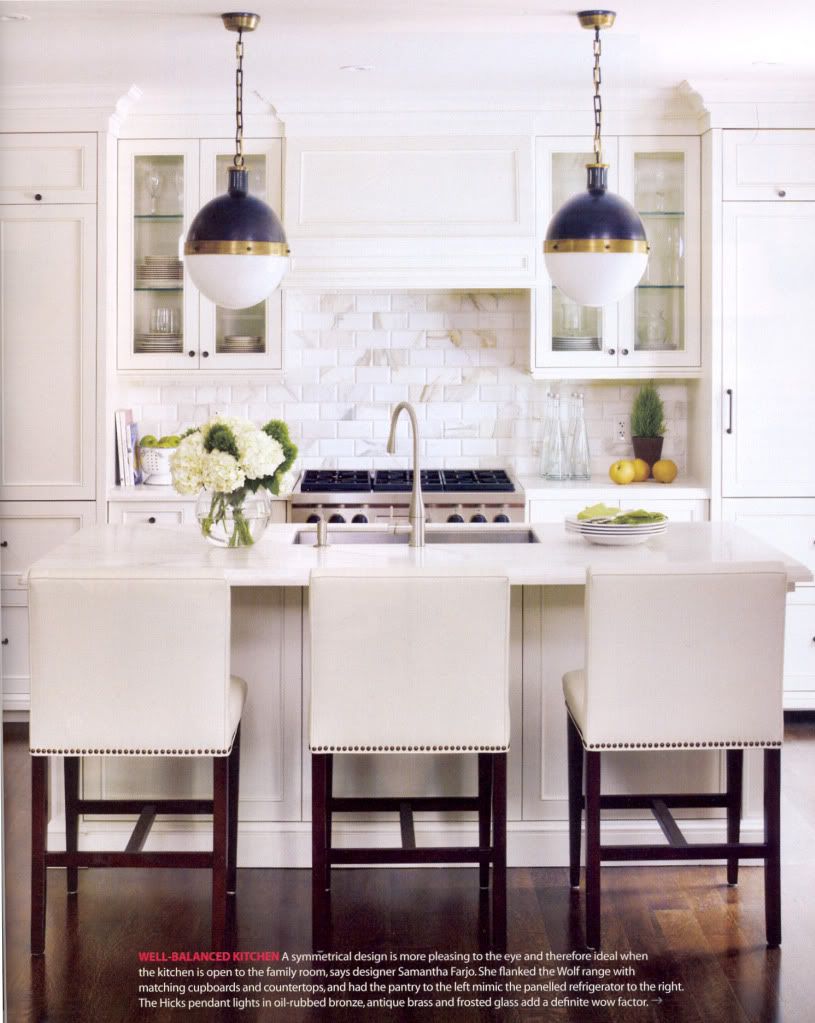 There are also little gadgets I would love to have if money were no object. How bout a pot-filling faucet over the stove?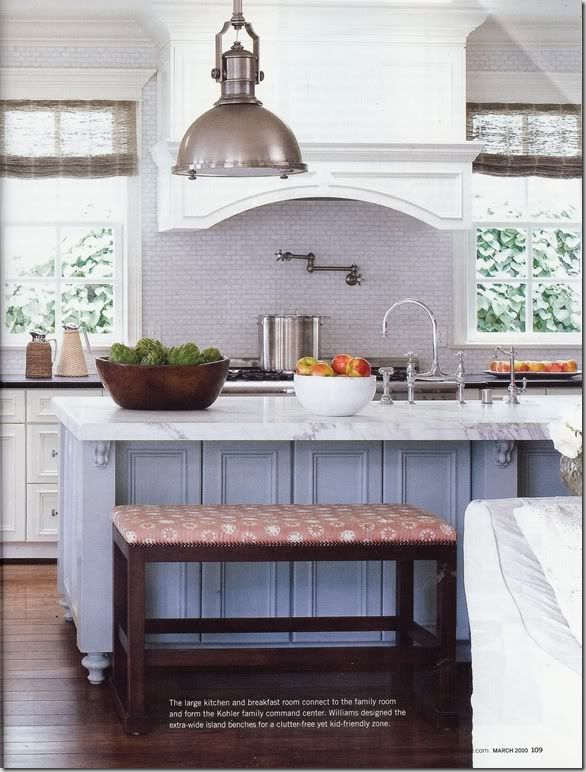 And a floor mounted faucet foot pedal!! (Apparently this is not too pricey to install!) Now that is smart thinking!
I would also love to have a gigantic sink and a center island with it's own postal code: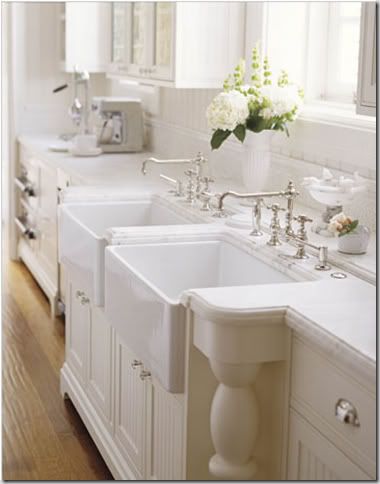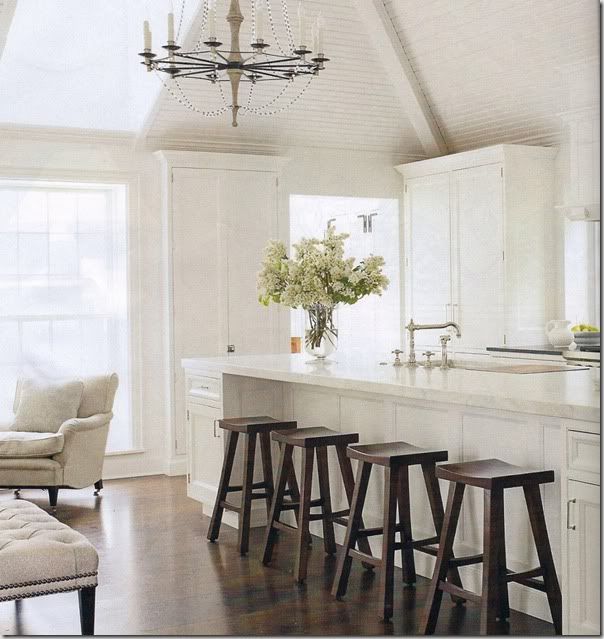 For now, I am pretty excited just to change my ugly formica counters and scary 1986 flowery backsplash! That will be a big enough transformation for me. Now that you have seen my inspiration kitchen I promise to post photos as soon as the counters are picked and the tile is up! I'm crossing my fingers that is sooner rather than later : )