What's the one picture that sums up your design style?? Tough question, isn't it? Well, that's the question Ally of
From the Right Bank
has posed to us! This is the third challenge she has set up, and I am excited to participate for the first time! This is a real toughy because I feel like my style is ever-changing, ever-evolving... so I picked a room that speaks to my style right now.
This is a master bedroom designed by
Sarah Richardson
, and I think it is perfectly tailored and glam: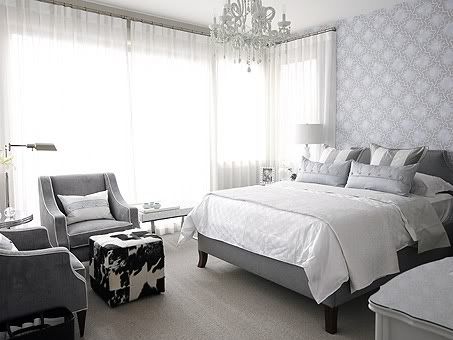 All the details close-up: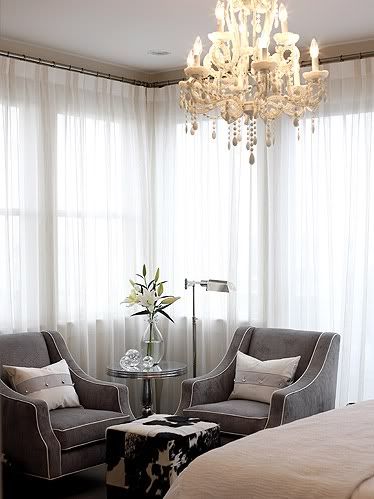 Here are some of the reasons why this room appeals to me:
- Grey has been my favorite for a while now! I love the calm and serene palette, with little touches of blue. I could really unwind here!
- Love the one wall of bold wallpaper, I have been wanting to do this in my own space for some time.
- The buttons on all the perfect little pillows add sparkle to the room. Love the combination of grey and white striped silk pillows with the dupioni silk blue lumbar pillows.
- The cowhide ottoman adds a nice punch.
- I die for the white piping against the grey fabric on the Garfield chairs.
- Do I need to point out the white chandelier?? I think not! Love how the milk glass gourd lamp speaks to the chandelier above.
All in all, I LOVE this space. Thank you Ally for this challenge! Be sure to hop over to
add your own picture
and check out some of the lovely rooms posted by everyone else!