It's no secret that I am quite smitten with Kelly Wearstler's sense of style. She is one of the leading trend-setters in interior design today. To me, she is a modern-day
Dorothy Draper
in the sense that she has truly mastered the art of bold and unexpected style. Ms. Wearstler has designed spaces for private residences and top-notch hotels around the world, such as the Viceroy Miami pictured below.
But what is her one dream project? Why, the White House of course!
Vanity Fair
asked the interior designer what she'd do with the official office of the president if given the chance.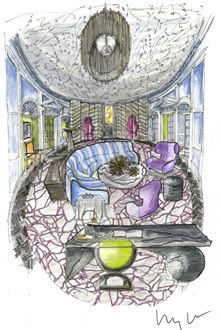 "For me, redesigning the White House would be a job of a lifetime. As it stands, the Oval Office is a bit of a dud. The U.S. is the world's most progressive country, and the White House design should follow this lead. The Obama administration is going to be sophisticated and confident and needs an Oval Office that reflects this. I suggest throwing off the symmetry with De Sede's 1960s Non-Stop sofa, along with a set of violet Jacobsen Egg chairs, the Brass Kaleidoscope I designed for Bergdorf Goodman, and my Tracery Rug for the Rug Company. I would also include a heavy and modern desk with a chartreuse empire chair and a modern screen."
- Kelly Wearstler, Vanity Fair.
Sounds intriguing doesn't it? Here's a rendering done by Kelly showing her vision for the space.
Let's dissect her description of how she would spruce up the historic residence:
So … any chance the Obama's are reading this post? ; )