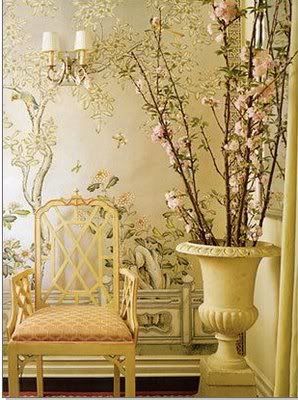 I've noticed the abundance of Asian inspiration floating around lately, and I am loving it! Chinoiserie (a French term meaning "Chinese-esque" or "that which reflects Chinese artistic influence") has been around forever but has more recently been given a trendy and modern update.
Wallcoverings (often handpainted) are super hot right now and are a key element to accomplishing the chic chinoiserie look. All of the inspiration rooms I found for this post include amazing wallpapers with high impact!
Recognize the wallcovering below? It's de Gournay's wallpaper pattern "Portobello" on dyed silk, made famous on the cover of domino's 'Book of Decorating!'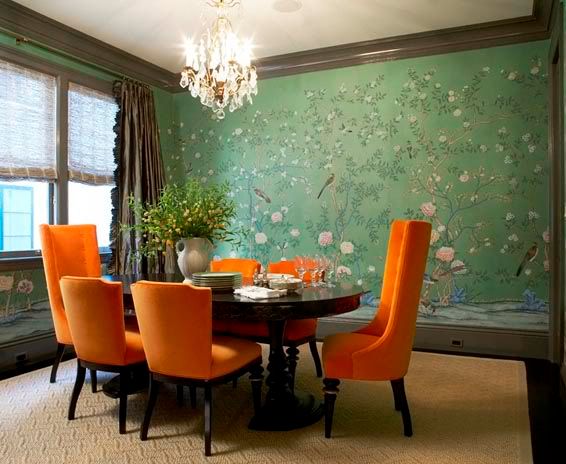 The worn and tattered look of this vintage handpainted paper is magnificent!
Here's a page straight out of the current issue of

Style at Home

, featuring lovely caged pendants with exotic sophistication.
The nice thing about chinoiserie-inspired furnshings is they come as modern and sleek or as ornate and traditional as you like! Get the look with these fab finds:
1. Stool: Tonic Home, 2. Lamp: PriceInspector, 3. Mirror: Williams Sonoma, 4. Shelf: Kindel's Dorothy Draper Collection, 5. Chair: Bungalow5, 6. Sideboard: Venfield NYC, 7. Foo dogs: Williams Sonoma, 8. Bedding: Dwell Studio, 9. Chair: One King's Lane