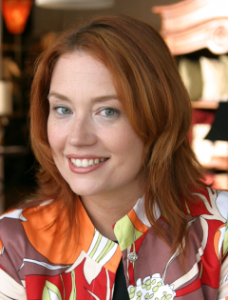 Today we are all in for quite a treat! I got the chance to have a little conversation with the lovely and talented

Meredith Heron

, and I am excited to share it with you. Meredith is a Toronto-based designer and television personality who has appeared on HGTV's Love by Design, Design Match, and as a guest on House & Home. She has also been featured on several episodes of the Food Network's Restaurant Makeover. Her style is distinctly elegant and refined with the perfect touches of color and whimsy which I adore!
When did you know you wanted to become a designer and how did you begin your business venture?
The first time I ever considered it I was 10. My parents had split up and my dad hired a decorator to help furnish and decorate our house. I REALLY wanted him to marry her. I thought she was fabulous and had amazing samples in her office. I chose a wild parrot wallpaper for my room. Think Chang Mai Dragon but with Parrots. AMAZING. Anyway, he married this other woman instead. Such a disappointment to me I was/am still crushed. However, she turned me on to the idea. High School, unfortunately, beat that out of me. Everyone was expected to go to university and become some sort of profession so I just followed along (so not my style normally) and became a teacher. Upon beginning my teaching career it took about a year to realize - WAIT, I'm going to do THIS for the rest of my life??? SHOOT ME NOW! I found teaching stifling and way too much of a political mine field than my redhead self was cut out for. I began to look at other options to realize the potential that I knew I was capable of. And as a side note/soapbox moment teachers are not paid enough. They really aren't. I was forced to take on a part time job.
Coincidentally, it was for Home Depot making paint. Cue the dunh dunh dunh musical moment.... Oh yes - hello lightbulb, THIS IS WHAT I WAS MADE TO DO. Roughly translated, my job in addition to mixing paint (which I love to do - any time, happy to get behind the counter and make paint, so much fun) was to give advice on colour selection and faux finishing. Being a teacher came in handy here. I basically became the Redheaded Bossy Pants of the local Home Depot. Weekends saw line ups down the paint aisle for people waiting to talk to me. Managers at the store would get calls all week long asking about my shifts. People were always offering me money to come to their homes. I was flattered, but felt entirely not worthy of such a thing.
Cue the Dramatic Music again.
I went to the mail box one day and low and behold I found a flyer for Continuing Education at Seneca College. They had a Decorating program there part time. I thought, maybe I will take the Colour Theory course. If it's some sort of Suzy Q Guide to Scrapbooking (no offence to ScrapBookers, but I'd rather gauge my eyes out with a dull spoon) I will drop it. So I signed up. Susan Thom, the program's director was my teacher. I have two degrees. I have never, ever, ever worked harder on any course than I did on that one. Knocked my socks off and showed me I had SO MUCH to learn. About halfway through the course, Susan took me aside and quietly said - " Ah, you need to do this for a living." Totally rocked my world.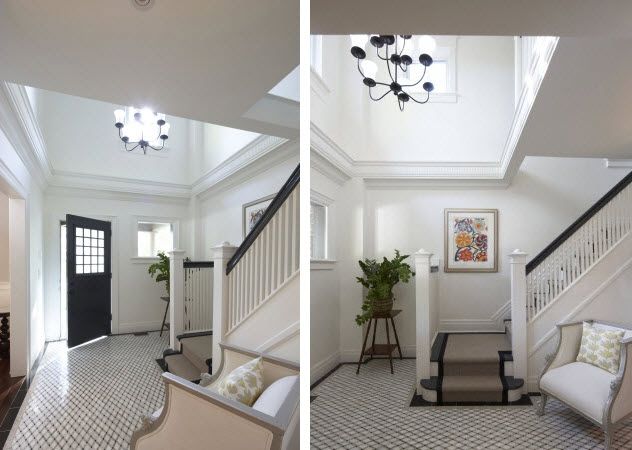 3.5 yrs later, I finished the Part-time program. Of course, I had long since been planning my exit strategy from teaching by the time I finished. After completing the Colour Theory course, I totally felt ready to take on clients for Colour Consultations. I'm rather ballsy that way. I never once entertained the idea of working for another decorator or designer. I still laugh at the mention of such a thing. Talk about a recipe for disaster. By the time I was nearing the completion of the program, I was pretty much working full time as a teacher, working 20+hrs a week at Home Depot, and at least 20hrs a week with private clients AND going to school still. You've heard the term frog in a blender... I was a Flash of Red for sure. One afternoon, during recess I placed a call to a nightclub to get their fax number (before email and the internet really took off) to book a party for a friend. I mentioned that I was a designer on the phone to them and they said, we're looking for someone to help us redo the club, could you come and talk to us. OF COURSE, I immediately responded with YES, I'd love to how's Saturday?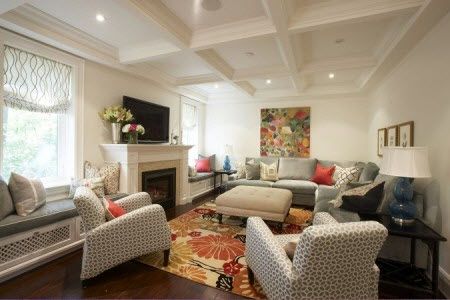 WHAT THE HECK? I mean really. I was insane. Clearly. I'd never designed a restaurant, a night club and I was only half way through a full house for a client. I was still a teacher. I had report cards to work on. I took the meeting, got the job and over an 11 day period (after a few months of planning), I renovated a night club. I designed the furniture, lights, upholstered wall installations the full deal. All the while I was teaching. The school had no idea, the night club had no idea. It was really a recipe for disaster but I managed to pull it off, sanity somewhat intact and my business was in full swing. I got enough referral work from that one job to allow me to take a leave of absence the next year and never look back.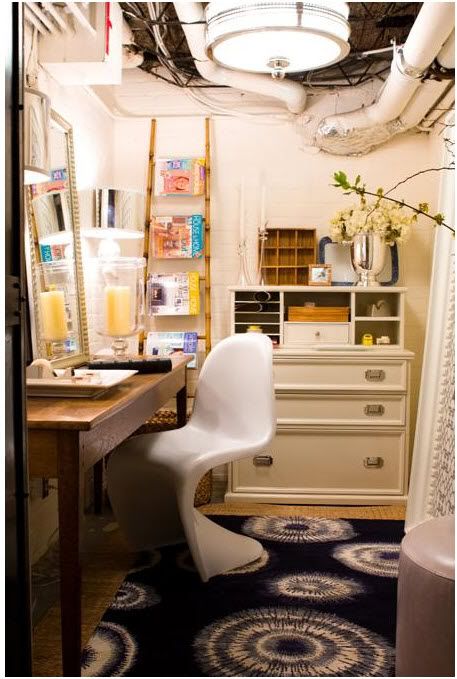 What was your first big break?
Out for drinks with some girlfriends, I was introduced to a woman who was organizing a Bachelor/Bachelorette Auction for the Starlight Children's Foundation. Again, without a moment's hesitation I immediately said "I'm In!" I then asked, what do I have to do?? Simply put, I had to put together a package to be bid on. A casting agent saw me on stage at the auction and I was asked to do a screen test for Love By Design. Pretty much a turning point for me professionally speaking.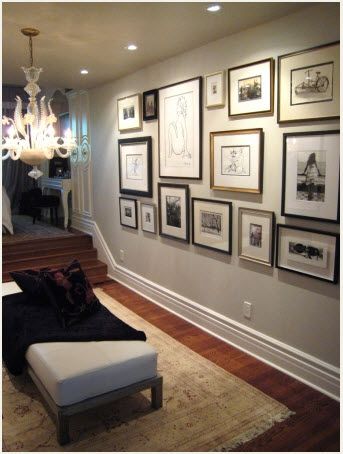 How has being on shows such as Love by Design, Design Match, and Restaurant Makeover changed your career?
Love By Design and Design Match were both great experiences in getting to know the TV Industry and figuring out how to exist in front of the camera. Restaurant Makeover was where I came into my own and really got to mix my design experience with my camera experience. We filmed RMO for 5 seasons and it airs (still) in almost 121 countries around the world. I have a surprising number of fans in Malaysia I have discovered. It's remarkable. The key to that show was that it has such a wide appeal. So many couples tell me how it is one of the few shows they enjoy watching together. Being on TV has provided me with many wonderful opportunities - with clients and suppliers alike. I do design work all across Canada and into the US. My firm has done a lot of work out west, including Jerry's Food Emporium in Saskatoon, a private residence in Canmore AB and several in Edmonton AB as well. Ottawa is also a regular city we travel to do work. It's fantastic.
What designers do you admire most?
I had lunch once with Barbara Barry and shook for 3 hours afterward. I love her elegance and grace. She is an artist first and designer second. I've never seen a room by Windsor Smith that I didn't like and I'm always excited to see anything Mary McDonald has done because it's so far removed from what most Canadians would ever let me do to their home. I have spent time talking with Eric Cohler and he is fabulous - we have a very similar approach to design and our inspiration. I love what Nate Berkus does for private clients not so much the DIY cheap and cheerful stuff he does on his show. This year, I was reminded also thanks to Margot Austin of Style at Home about someone I've long since admired and had admittedly forgotten about due to her absence from Cityline. Ray Staples. I want a career as long and illustrious as hers. I admire her spunk and her way of calling a spade a spade. Margot shared with a few of us Ray's recent lament over the status of Canadian Design - "Where's the f***'n Magic,?" she asked. I think that is brilliant and I've borrowed this 2011 Mantra from Margot because it is absolutely accurate. Can you imagine if this idea caught on and we had a Design Revolution sweep across Canada & the US??
What project are you most proud of?
2 years ago I made a baby. 18 months ago he arrived in the world, 3 weeks early and a bit impatient. He's by far the best thing I've ever created. I love watching him feed himself. I look at him as he's trying to shove half a banana in his mouth in one swoop and I think - I made you from scratch and you are now able to do this by yourself. Design-wise, I am most proud of the fact that each of project that I undertake reflects their owner and therefore has a different face. When I look back on work that we have done, I see that each space is more than just a space. I am able to see the soul and character that the collaboration between my office & the client has achieved.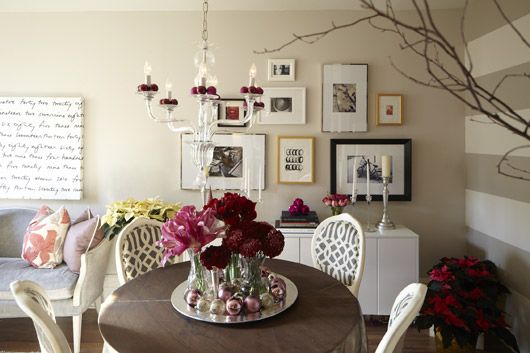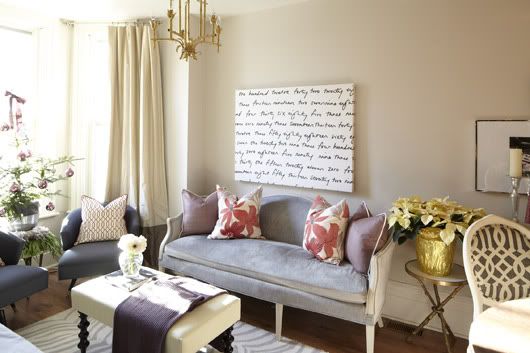 What is your next design venture?
2011 is going to be a very exciting year. Of course, I'm working on a few top secret projects that I hope to share soon with everyone... never a dull moment here! I'm also thinking about adding a Design Journal aka blog to our site. A look inside the crazy mind of a red headed designer who is seeking to find the Magic - should prove well interesting to say the least! I've also been campaigning HGTV US on Twitter to have me design their next Dream Home. I really think they should take me up on it. HA!!!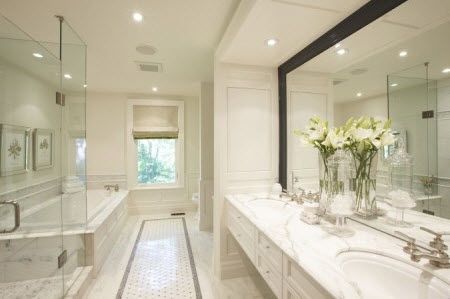 A HUGE thank you goes out to Meredith for being so gracious and so generous with her time. What an amazing career she has had! Be sure to check out more of her delicious design work on her website
here
. And for the record

Meredith, I think you'd be the perfect choice to design the next HGTV US Dream Home!! Here's hoping :)