Another fantastic edition of 'My Dream Home would Have to Have!' Today I am honored to have Rashon, better known as

Mr. Goodwill Hunting

, visiting to share his must-have. I'm so happy to call him a friend, and he has been one of my biggest supporters! If you haven't visited Mr. GWH's corner of the blogosphere,

run don't walk

!! Coming up, Rashon will be featured on the Nate Berkus show for not one, but two more appearances, so stay tuned!
Let me first start by saying I have been a huge fan of Nancy's blog since I first met her some time ago. Not only is she beautiful, but she has an attainable design aesthetic that makes her approachable. Plus she works in an office that houses a card catalog. Yea I know jealous-o-meter just went off.
When she asked me to participate in her brand new series, "My Dream Home would Have to Have..." I just knew this was the time I could live vicariously and get lost in one of my must haves, greyish or black grasscloth wallpaper. I know some people don't like wallpaper and for some grasscloth can seem so retro, and not to mention the dark and moodiness of grey and charcoal mixed in. However, for me, this is a must have. It provides so much texture, and against chrome or brass totally shaking things up. To me it feels comfortable, yet classic and elegant all in the same. Unfortunately as a renter, I don't feel it would be wise to wallpaper my condo with grasscloth. Nevertheless I pine for it. My must have is greyish or charcoal grasscloth wallpaper.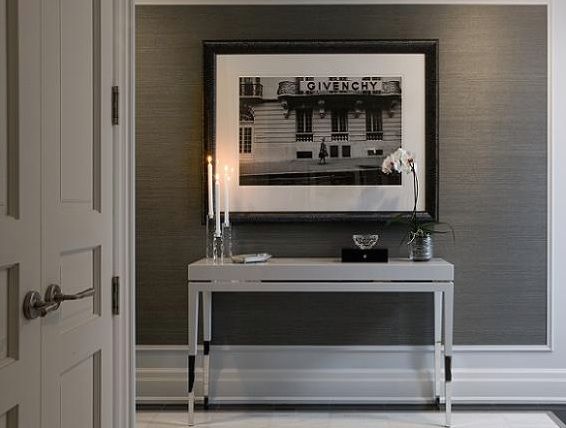 Wow, Mr. Goodwill I think you have us all convinced, this evidence is gorgeous! Classic and chic all in one, I'm putting dark grasscloth on my list too!! A huge thank you goes out to Rashon for his time.