Welcome 2013! I'm really excited to be starting fresh - a new year, new goals, new aspirations. Though I have to admit to being sad to see 2012 go, it was a life changing year for me, quite like no other! I plan to recap 2012 over here tomorrow, more for my own personal record of how huge it really was for me.
I got a few Christmas gifts from my family that really directly correlate with some of the goals I have for 2013.
1. I really really want to get organized. In more ways than one: home, email, paperwork, my brain, EVERYTHING! I'm going to go back and read my own post from last year on
6 tips to toss, restore, organize
... and to get started I recieved this lovely

Kate Spade 2013

personal agenda, I just love the blank pages with so much potential to be filled!
2. One of my goals last year was to improve my photography skills, and this Christmas I recieved the Canon

50mm f/1.8 lens

for my camera, it's giving me the motivation to pick things up again. Hopefully my pictures on the blog will get better and better in 2013.
3. Another goal carrying over from my 2012 list - update & pare down my wardrobe, accessorize more, and try new things! I LOVE this

J Crew wide bangle

I got, it'll help pave the way to having more fun with fashion this year.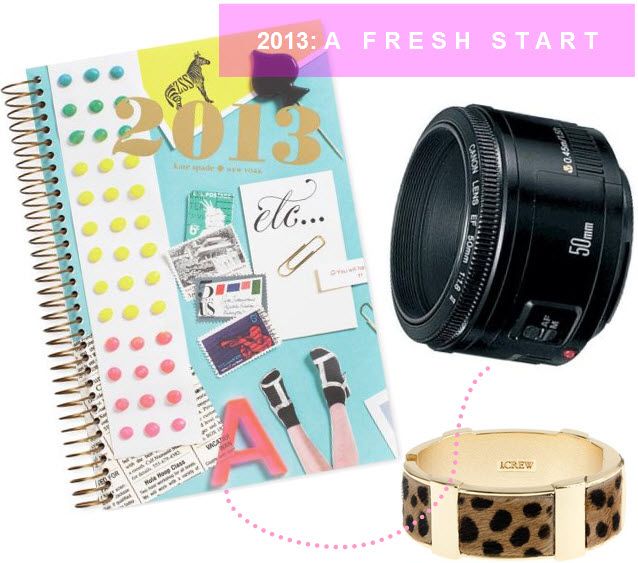 Well those are only a few of my current goals, how's your list looking? Do you hate the idea of resolutions, or spring at the chance to start fresh and get motivated for the new year? I take it as the perfect chance to sit back and re-evaluate things in my life. There is always something exciting about having the chance to start anew & rewrite your future!