Today I'm sharing a beauty tip with you - which isn't exactly my normal subject matter, but you know when you find out about something so good you just have to tell all of your friends? Let me explain ...
At the beginning of a new year I always have new-found motivation to try to improve my health & apperance. Something that I personally have struggled with all of my life is oily skin; I know it's a blessing when it comes to preventing wrinkles, but becoming a shiny mess only 30 minutes after applying your makeup isn't very fun. So a few weeks ago I turned to the internet to search for new ideas to try (I'd tried the primers, matte powders, blotting papers, you name it!). Low and behold there were 100's of beauty blogs raving about one particular product: Milk of Magnesia. YES, you read that right - the over-the-counter stomach aid and laxative.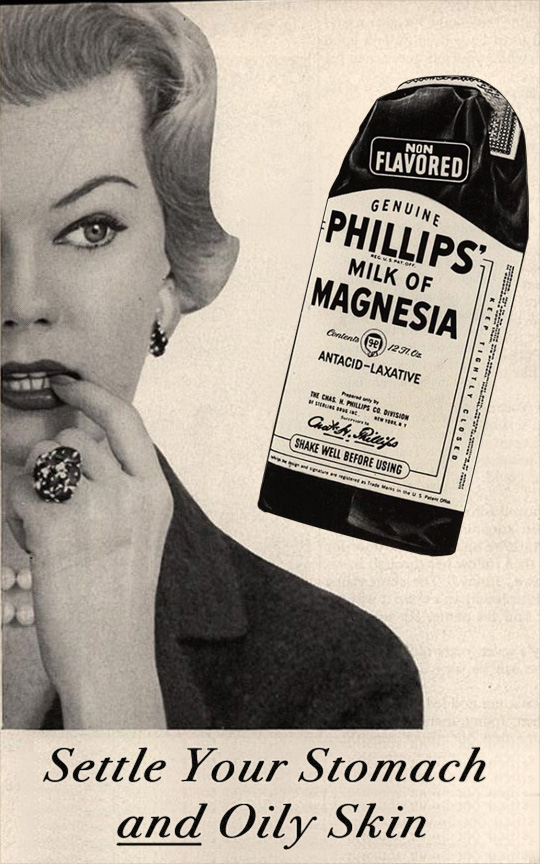 So apparently everyone has been keeping this long-tested beauty secret from me! Just type Milk of Magnesia into Pinterest and you will find numerous links and YouTube video's explaining how to use it as a face primer! So I picked it up at my local pharmacy for only about $8 for a 12 oz. bottle, and got started using it right away. It's only been a short time but I just had to share with you all because it has DRAMATICALLY cut down shine for me, it's amazing the difference in my skin. I would normally have to blot every hour but this stuff is giving me about 4 hours of a shine free face. For me, that's a life-change in a little blue bottle.
HOW TO USE: I apply milk of magnesia as soon as my daily moisturizer has fully absorbed. Shake the bottle well and lightly dab a cotton ball with the product (literally is the consistancy of milk). Only apply to the areas that you get oily (for me that's a thin layer on my entire face). I pat it in until I can't see it, and then give the MoM a minute or two to dry. Areas that have too much MoM can get a white chalky residue, but it's easy to rub this off. Then apply your foundation as normal! It's best to buy the Original flavor, as the flavoured versions contain sugars and mineral oil that can cause breakouts.
You can also use MoM as a mask - apply a thicker layer for 10-15 minutes and then rinse off.
I am so excited that I've found something to curb my over-eager sebaceous glands! Basically the way it works is exactly the way it works for constipation. The magnesium salt is an osmotic laxative meaning it absorbs things. In the gut it absorbs water, pulling water into your stomach, and on your skin it absorbs the oil produced.
I'd be happy to post an update as I use it for a longer period of time, fingers crossed that MoM continues to work it's magic! If you have longed for a matte finish I would definitely suggest giving this easy & inexpensive 'unconventional' product a try, you've got nothing to lose :)