The past few months have been chaotic, exciting, overwhelming ... I could go on and on! As I recently posted, we are expecting a little one in January and our home reno is in full swing. Put those two life-changing events together and it's a little crazy. But thank God, we are doing our best and taking each day in stride. I KNEW I wanted to find out baby's gender before their arrival - I'm the kind of person that likes to plan and have everything prepped, and the thought of decorating the nursery was enough for me to know I had to KNOW! So we promptly planned for a gender reveal party with our family ... only the first ultrasound baby was shy and we couldn't see! Off we went to a 3D ultrasound, had the tech put the gender into a sealed envelope so we couldn't see it in the impersonal/clinical space of the office, and took it to a cake-maker so we could be surprised together with loved ones.
Before I was super-obviously sporting a
bump
, I also planned a family session of photos with
Yaletown Photography
... knowing that this would be the last time before our family grew, and last fleeting moments of just Nick and I as a couple. It's a strange thing to feel fearful of losing the only thing you know, but also knowing you are going to be gaining something beyond your wildest dreams.
Ok, back to the cake! I know I'm holding you in suspense here ...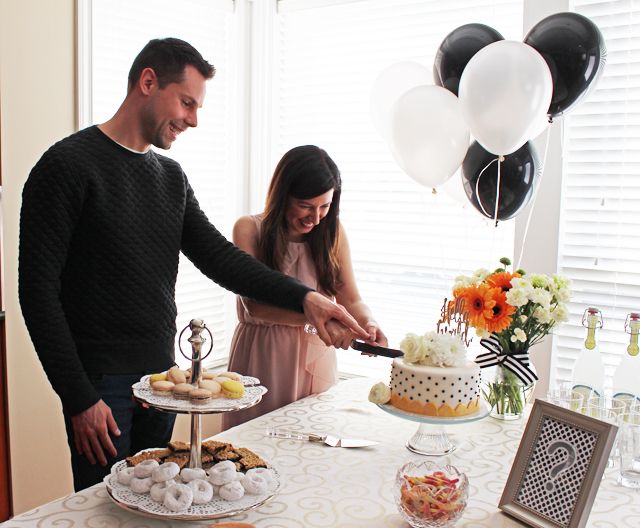 The cake-dots on the inside were BLUE .... baby on the way is a BOY!
Truth? I already had a design plan in mind whether baby would have been a boy or girl :) And while I promise this blog will by no means be turning into a mommy/baby blog ... I think nursery décor is pretty fitting around here. It's something I've long thought of WAY before I was even ready to begin thinking about having children of my own. Here's my mood board so far:
I'd like to do one wall in the Fornasetti Nuvolette wallcovering, back in July
I posted
on my obsession with this paper and *hinted* that I would be using it in a special room :)
And finally, a mix of pillows will be a must, I'm liking the idea of a sofa instead of a rocking chair (thoughts?) piled with pillows! We haven't chosen a name yet, but when we do I can pick out an initial monogram pillow to add to the bunch ... So what do you think so far? And one thing I'd love is for you to chime in on what you think a baby NEEDS and must be included in the room ... I'm pretty clueless on that front! Thanks for reading through this lengthy post ;)