Well, call me crazy, but even with a 3 month old baby in tow I've decided to jump in on the One Room Challenge as a guest participant. Call me even CRAZIER, but I've decided to complete the One Room Challenge x 2!!! The reasons really are that I have the "shell" of these rooms ready to go - walls painted/papered, flooring and lighting in. I'm on to the fun décor part and honestly I have to get these rooms done ASAP for my family's sanity.
We've been moved in for several weeks and as many of you know doing any thing as a new parent just seems to take about 5x the amount of time it used to! First up is the nursery, many of you who have been following along know where I am basically at (see the photo above). Wallpaper is up, and this empty room has pretty much been sitting ever since. I've been putting it off (even though baby Marcus is 14 weeks!) because he is sleeping in our bedroom all this time - but he's getting to the point where he (and all of his darling clothes/toys) will need a space of his own. Just a little reminder, and for those of you visiting for the first time, this is where we started when we purchased the home:
And this is where we are literally yesterday (snapped with my iPhone!), it's become a dumping ground because it's an empty room, NOT good.

The one single piece of furniture I managed to pick up last week was this campaign-style dresser off of Craigslist:
So now it's time to kick this plan into high-gear and I'm hoping that this six-week long blogging challenge is going to be just the kick-in-the-pants this new and overwhelmed mama needs! Here's a peek at the plans: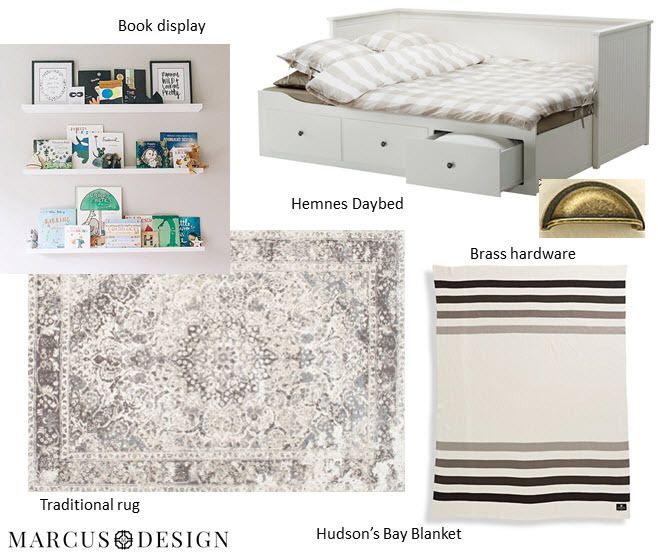 So it's going to be a matter of purchasing furniture, décor items, a couple of simple DIYs with artwork and changing up the hardware on an IKEA daybed. Sounds easy right? Well I'm shaking in my boots just trying to imagine having the time to BUILD the IKEA daybed, let alone style it with the perfect textiles! Here goes nothing ;)
Be sure to check out my
next post
for my second One Room Challenge space! And head to
Calling it Home
for a look at all the other guest participants.